360 Content Marketing Solution from Strategy to Implementation.
Smart Cookie Media is focused on helping you, the brand, connect with a millennial audience. We do this using a robust and well-planned content marketing solution across all social media platforms.
Watch Somi Arian's video about the challenges of marketing to millennials, featuring her interviews with Heads of Marketing and CEOs of Jaguar Land Rover, Steinway, Bremont, The Economist and Gary Vaynerchuk, among others.
Why are Millennials so important?
The millennial population is the biggest generation since World War II, surpassing the baby boomers and the Generation X. And now they are approaching their peak spending years. See this infographic. According to Goldman Sachs, over the next 5 years, their spending will increase by 15%, while the baby boomers spending will decline by 10%. For purposes of clarification, the millennial population is anyone born between 1980 and 2000.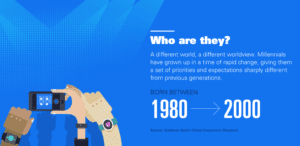 The luxury market in the UK and Europe has a long, established history with real authenticity. This is an important factor in attracting the millennials and luxury brands rooted in heritage are sitting on a goldmine. But how will you communicate this to young people?
Many brands still rely on traditional TV, radio and print. This communication is still important but tends to work better for an older demographic. Millennials don't watch scheduled TV, nor do many read magazines or listen to the radio. They watch online videos, read Blogs and listen to podcasts. This is where content marketing is your best solution.
Think Like a Media Company
No matter what business you are in, you need to think and behave like a media company. There is a golden opportunity for luxury brands to create their own content marketing plan for a very targeted audience.
If you are targetting millennials, you really want to be dedicating a significant part of your marketing budget to social media and content marketing. Considering the large population of millennials, coming into their peak spending years, it is important to spend money in places where they are listening.
There are three main methods that you can use to engage with millennials. Video, audio and text. Most importantly, the content has to be more editorial than product led. Here are some examples:
Video:
Smart Cookie Media will create short-form and long-form reality series and Vlog style videos to capture the spirit of your brand in a way that appeals to millennials. e.g. an influencer visits the brand's factory for one day, to work as an apprentice to a highly experienced crafts maker or factory worker. There is an element of humour and it's authentic and entertaining. The goal is to communicate to the millennial audience that this is a highly skilled work. And you showcase the factory, without directly saying any of this – showing v.s. telling.
We will also create talk shows and "how to" videos and we will invite interesting and unique guests to appear on your show.
Audio:
Podcasts are extremely important and almost completely ignored by most high-end luxury brands. Many millennials are now turning to podcasts as they commute and exercise, since it's much easier to listen, rather than watch videos. As part of our 360 plan, Smart Cookie Media will identify podcasts that are popular among high net worth individuals where you can advertise and sponsor. We will also develop your own podcasts in collaboration with the right influencers that fit your brand.
Text:
We will take the material from the videos and podcasts and turn them into meaningful blogs and articles for those who prefer to read.
Advertising
Smart Cookie Media offers to look after all aspects of placement of the content, through a combination of paid adverts, and both free and paid collaboration with influencers. However, if the content itself is highly engaging, it becomes far more shareable, increasing the chances of organic reach. For example, videos about beauty and style hacks, are far more shareable than showcasing a beautiful jumper. You have to build the advertising into to the content, in a subtle way.
Many brands forget that millennials are generally at an age where they may be able to afford one or two luxury items at a time. But their wardrobe may not necessarily be entirely made up of high fashion items. For example, they may choose to purchase an expensive handbag from a high fashion brand but they may want to match that with a dress from a high street brand. This should be seen as an opportunity for the high fashion brand to help them style their entire outfit around the handbag or the shoes to accentuate it. This creates an attitude of inclusivity and helps keep the millennial in contact with the brand, until such age that they can afford to buy more from the true luxury brands.
For a completely bespoke plan from strategy to implementation, please email somi@smartcookiemedia.com
Make sure to check out our about page, to learn more about the ethos and passion behind what we do.